Contributing to a sustainable energy transition
---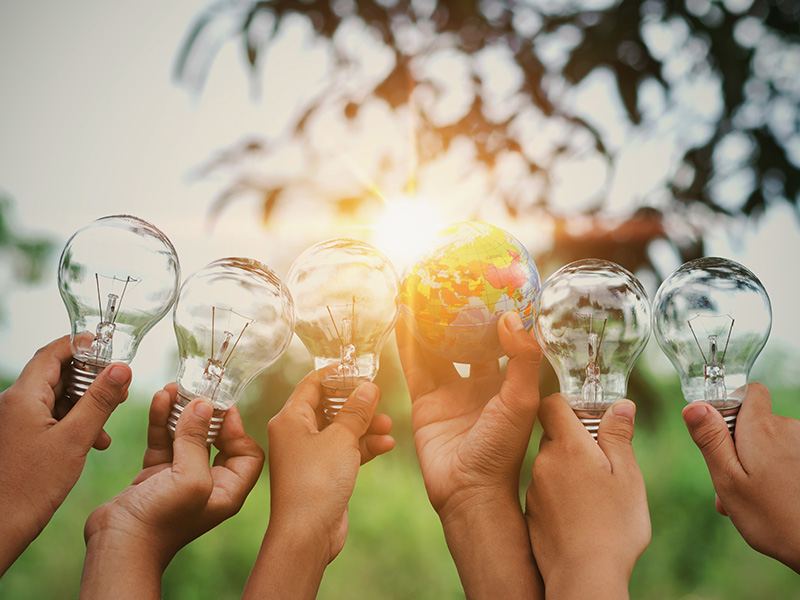 By 2050, the European Union should reach an ambitious objective: being the first climate-neutral continent. In order to do so, we have to overcome several challenges:
The production of fuels and chemicals should be based on renewable and sustainable feedstocks.
CO2 should be captured and converted with no extra energy source.
Steady conversion of live organisms during the production of chemicals should be reached.
Implementation of technologies that do not include the use of metals and rare materials.
Need of storable technologies for solar energies.
Decentralized production of valuable products to avoid transportation emissions.
Photo2Fuel will develop a breakthrough technology that converts CO2 into useful fuels and chemicals by means of microorganisms and using only sunlight as an energy source.
How is Photo2Fuel working?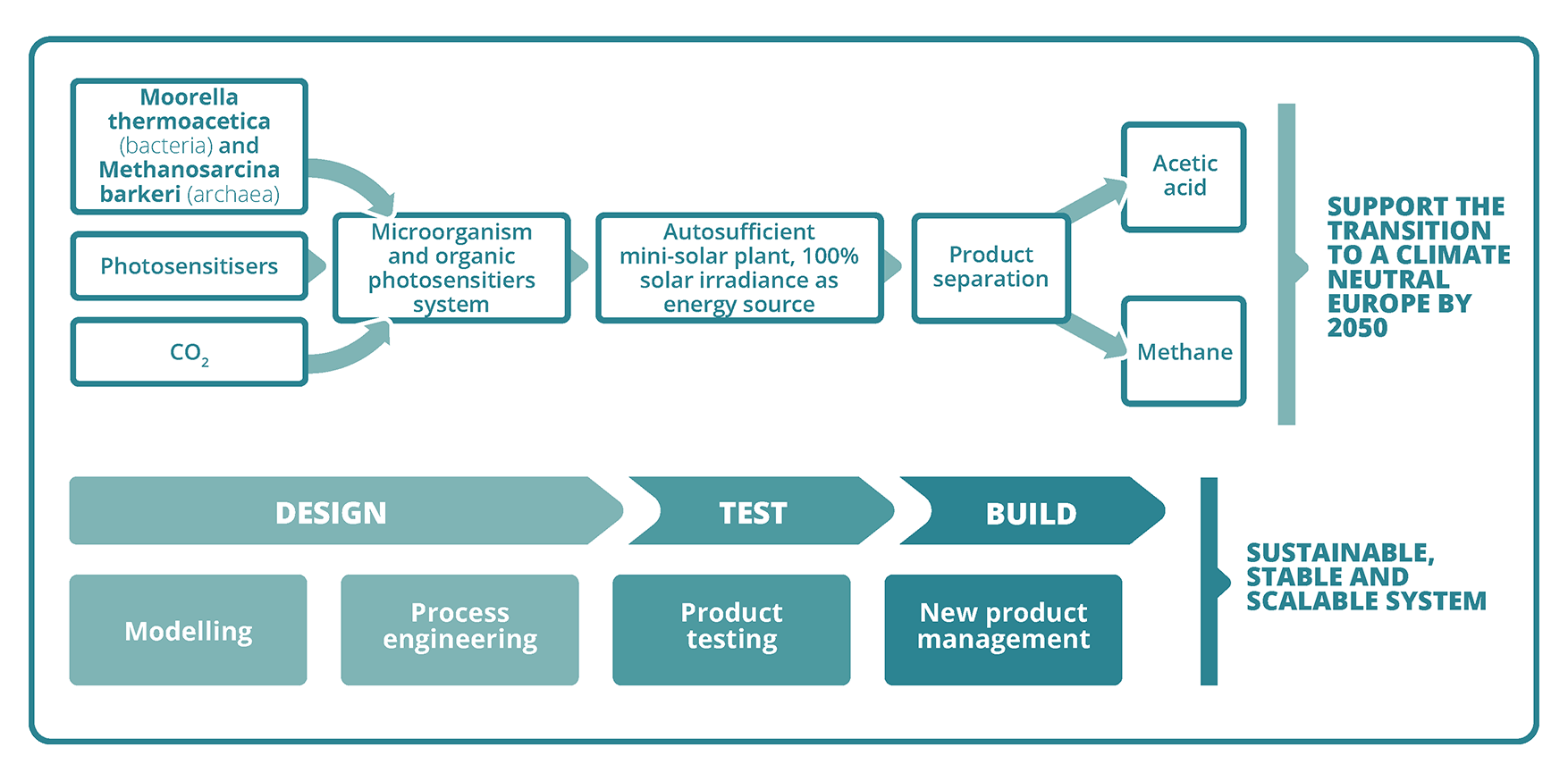 The main system of Photo2Fuel is composed of microorganisms (Moorella thermoacetica bacteria and Methanosarcina barkeri archaea), photosensitisers and captured CO2. This hybrid system is fed into a reactor that works only with sunlight and special LEDs at night and in variable weather conditions. Methanosarcina barkeri archaea will develop into methane, recovered directly as a gas.
Moorella thermoacetica bacteria will produce acetic acid, which will be recovered after a process of product separation. The obtained products are targeted to various end-use applications, such as chemical, transport and other high-energy-consuming industries.
The process is based on three main steps:
Design: In this step, the research groups and centres will focus on the study and development of the different components for the semi-artificial systems of organic semi-conductor with microorganisms for the production of acetic acid/methane.
Test: In this step, modelling activities will be performed, integrated by studies of kinetics, process design & environmental LCA, Multidisciplinary Design Optimisation (MDO) and the simulation of an upscaled solar plant.
Build: the selected device will be upscaled to a micro-reactor scale, which will be the key part of the self-sustainable mini-solar plant. This final system will be tested under intermittent solar radiation and through continuous operation to evaluate its performance, considering the overall efficiency and potential issues
Sustainability best solutions
Sustainability of the Photo2Fuel system
To define the best solutions to be adopted, a sustainability assessment will be performed from an early stage of the project.
Environmental LCA to quantify the sustainability performance of the emerging processes will be implemented, covering impacts on human health, resources, and ecosystems. Moreover, a comparison with alternative production processes for methane and acetic acid will be performed so that the scores can be readily interpreted, providing a full picture of the impact of Photo2Fuel's technology.
The economic and social evaluation of the Photo2Fuel project will also be assessed. At the economic level, the market price of carbon, methane and acetic acid will be taken into account, as well as tendencies for the carbon market will be analysed from 2021 to 2050, in view of the need to achieve climate neutrality by 2050. A detailed analysis of the potential social impact of our technology considering the recommendations of the EU and the Life Cycle Initiative will be taken into account.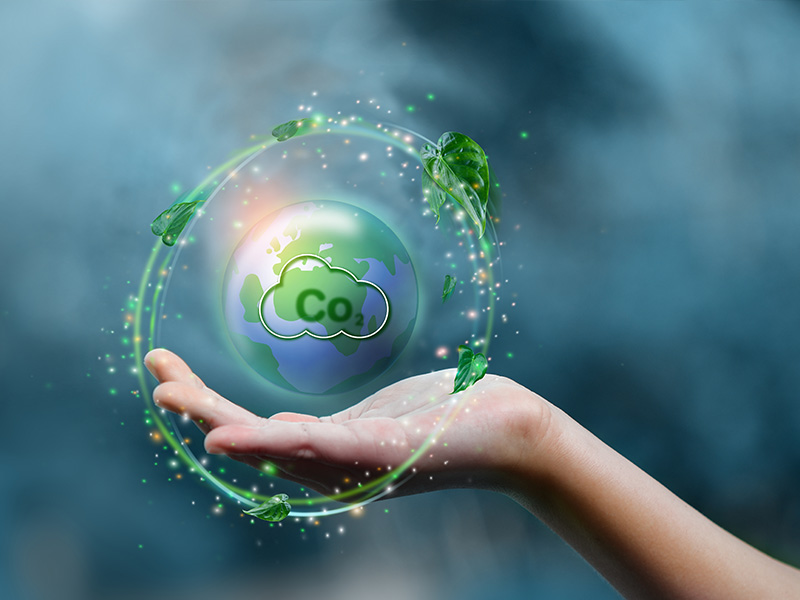 Photo2Fuel advances beyond the state of the art in biofuels production
Clean and sustainable solutions for the energy transition
Towards a climate neutral Europe by 2050.

Artificial photosynthesis
Artificial photosynthesis enables the synthesis of organic molecules, mimicking natural photosynthesis. It uses sunlight to initiate a complex reaction sequence that can produce hydrogen or hydrocarbons without making use of biomass or an external electricity network. Photo2Fuel's technology relies on one branch of artificial photosynthesis, the "semi-synthetic" systems, with hybridization of biological (enzymes, microorganisms, yeast, etc.) and artificial components.
This hybrid approach is still in its infancy, though, and, therefore, there is a huge space for development in several sub-areas that apply different techniques, that will be explored by Photo2Fuel.
It could be the answer for a sustainable transition from fossil to renewable fuels, promoting energy independence and decentralisation, as well as being a solution for energy storage.

Semi-synthetic approaches for solar-driven CO2 reduction
Photo2Fuel will build upon a conceptually novel approach in which microorganisms can be coated with organic semiconductors that, under illumination, are capable of promoting the production of target chemicals for CO2 reduction. Organic semiconductors, such as some kinds of polymers, aroused interest because of their good biocompatibility with organisms in a versatile biological system. Thus, organic conjugated semi-conductors could provide an excellent opportunity to develop efficient solar-to-chemical conversion biohybrid systems.
In Photo2Fuel we will further develop this approach aiming at developing two different systems, one with moorella thermoacetica for the production of acetic acid, and a second with methanosarcina barkeri to produce methane.

Continuous production of solar fuels under variant solar irradiance
One of the major practical barriers to the further uptake of solar energy for photochemical reactions is the variations in sunlight intensity. The interchange between day and night and cloudy weather may affect the artificial photosynthesis process. In this project, we will select one microorganism-organic semi-conductor hybrid system (beyond the actual state of the art) to be applied to a luminescent solar concentrator photomicroreactor (LSC-PM) design. This system will convert solar energy into a narrow and steady spectral light distribution. Our ambition is to use the LSC-PM design to operate one of our designed devices and produce acetic acid/methane continuously. The main aim is to develop an off-grid solar mini-plant for chemical production.
Policy framework for the biofuels sector
Biofuels are liquid or gaseous transport fuels made from biomass. As explained by the European Commission, biofuels serve as a renewable alternative to fossil fuels in the EU's energy sector, helping to reduce greenhouse gas emissions and improve the EU's security of supply.
The
Green Deal
and various European directives implemented at national levels have set binding targets on countries to reduce their GHG emissions.
Europe depends on imports for a significant proportion of its energy demand. The ambition of this project is to enable Europe to make the transition to climate neutrality, while moving closer towards greater independence of fuel and chemicals supplies and to achieve this domestically at local levels across Europe while supporting renewable sources and protecting the environment.
All partners from the Photo2Fuel consortium are committed to fully comply with all applicable regulations and other legal requirements to conduct their research in a highly ethical and legal manner. Main regulation related to Photo2Fuel technologies and products were scanned, and will further identified, reviewed, updated, and addressed in WP7.
In line with the European Green Deal objectives, the targets set in the Paris Agreement and the EU 2030 Climate & Energy Framework research and innovation activities of the project will be focused on developing highly innovative solar fuels production with zero GHG emissions.
Project workpackages
Project Start