We develop hybrid biofuel production systems employing microorganisms and CO2
We provide clean and sustainable solutions for the energy transition
Towards a climate neutral Europe by 2050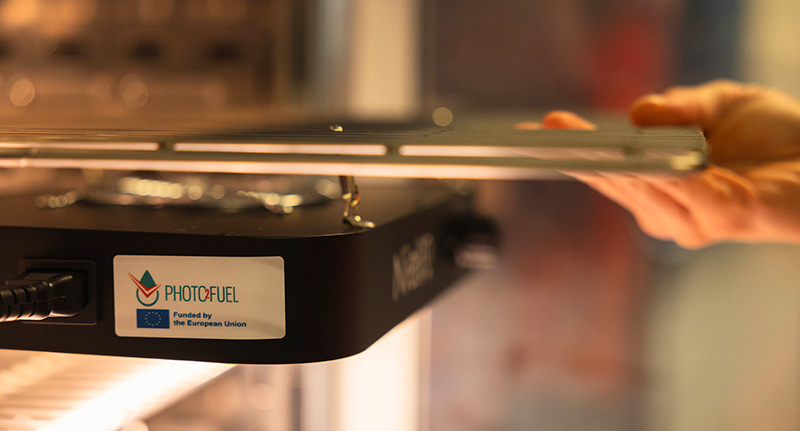 What is Photo2Fuel?
Photo2Fuel is a European research project that aims to produce biofuels from captured CO2, using only solar power as energy source. The 3-year project started in September 2022 and receives funding from the European Union's Horizon Europe multiannual financial framework.

What are the objectives of Photo2Fuel?
Photo2Fuel's main objective is to convert CO2 into useful fuels and chemicals using microorganisms and organic materials. Methane and acetic acid will be produced. The project will develop a photo-micro-reactor capable of working under any atmospheric conditions and different sunlight intensities. Technologies for the separation of the main products will also be investigated.

Who is working on Photo2Fuel?
Photo2Fuel is a project bringing together 8 partners from 6 countries around the world (Spain, The Netherlands, Germany, Sweden, China, Switzerland). 5 universities, 2 research and technology organisations and 1 SME are working together to cover all the steps for Photo2Fuel's methodology development.
Sections
Photo2Fuel website at a glance
Quickly access the most relevant sections of the Photo2Fuel project. Find out more about the project and the partners that collaborate together. Keep an eye out for Public deliverables.
About Photo2fuel
Discover more technical details about the project
Partners
Meet the institutions and companies involved in the project
Public Deliverables
Track the progress of the project through the official documents submitted to the European Commission
Are you interested in collaborating?

We welcome any inquiry on Photo2Fuel's innovative solutions for biofuel production. If you're interested in knowing more about the project and think what we are working on might bring benefit to your work and research, please don't hesitate to get in touch with us.
Who is working on Photo2Fuel?
The Consortium Partners
Interesting Podcasts
Listen to the news and opinions on the future of biofuels